Looking for a device that allows you to control your robot and at the same time to see what the robot sees on your mobile phone? Look no further than this vRTCam from SGBotic.
The vRTCam is designed for use with a mobile phone as remote controller with minimum setup. It is unique in a way that the control program is run directly on your mobile phone's web browser, no additional apps is required. The vRTCam will function as wireless access point upon powered up and uses wifi to link to your mobile phone. Each vRTCam has a unique SSID to allow multiple units to operate in close proximity. The setup of vRTCam is straight forward. All you need to do is to connect your mobile phone's wifi to its SSID (no password is required), open your browser, set the IP address and you are ready to go once the control panel is loaded to your browser. vRTCam works on Android and iOS device, and supports most web browsers including Chrome and Safari. For practical reason, only one device is allowed to connect to vRTCam at any instant.
The video image, captured by a 68 degree FOV camera, is beamed to your web browser via wifi connection at 20 frames-per-second (FPS). The virtual joystick is overlayed on these video images. Once the joystick is touched and moved, the information, including position, angle and distance from the center, are captured, computed, and sent through the serial port.
Three user buttons located at the bottom of the control panel can be assigned by user program to perform specific task. Another button is used to control the onboard high power white light LED.
The video resolution is selected to optimise the wifi and CPU performance while providing sufficient details for navigation of your robot.
Current consumption of the vRTCam is around 300mA (600mA when onboard high power white LED is turned on). It is therefore not recommended to use Alkaline batteries (i.e. those AA or AAA cylinder batteries). Use lithium battery or power bank instead.
The vRTCam module comes with an interface cable (approx. 200mm, terminated with male pin header).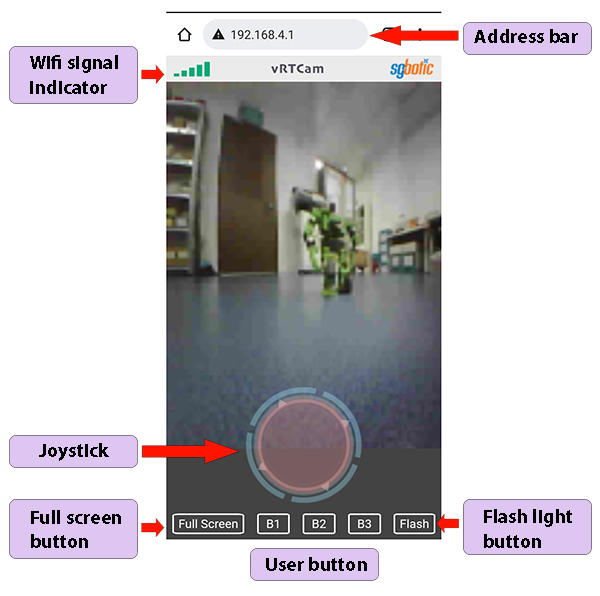 Note:
The microSD card connector is disabled by firmware and cannot be used.
For the control panel to load correctly, the recommended display aspect ratio of the mobile phone should be 16:9 (iPhone 6) or higher.
It is normal for vRTCam to get warm after few minutes into operation.
Features:
20 FPS video frame rate
Current consumption: approx. 300mA (600mA when onboard high power white LED is turned on)
68 degree FOV camera
Serial output baudrate: 19200 bps
Support Android and iOS device
Support Safari and Chrome web browser
Three user buttons
IP address to load control panel: 192.168.4.1
Documents:
Dimensions: 28mm x 55.5mm