This is another great 16x2 character LCD display with I2C interface designed for 3.3V and 5V supply. The LCD features full colour RGB text, allowing you to change the text colour to meet your project requirement.

The LCD uses I2C communication interface - only four wires (power, ground, data and clock) is required to power and transfer data.
The LCD comes with 20cm interface cable (JST to female connector).
BBC Micro:bit - Use the link below to add the pxt extension to your makecode editor:
https://github.com/SGBotic/pxt-SGBotic-RGB-1602LCD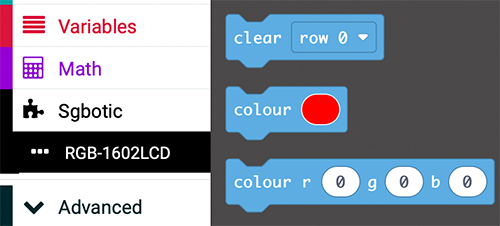 Features:
Display - 16 characters per row, 2 rows
Supply voltage - 3.3V or 5V
RGB text
I2C Interface
JST 4-pin connector
Documents: