myCobot is the world's smallest and lightest six-axis collaborative robot, jointly produced by Elephant Robotics and M5Stack. It is more than a productivity tool full of imagination, can carry on the secondary development according to the demands of users to achieve personalized customization.
With a weight of 850g, a payload of 250g, and an arms-length of 350mm, myCobot is compact but powerful, can not only be matched with a variety of end effectors to adapt to different kinds of application scenarios also support the secondary development of multi-platform software to meet the needs of various scenarios such as scientific research and education, smart home, light industry, and commercial applications.
Note: Gripper and suction pump are not included.
The Kit includes:
myCobot robot arm
Mounting G-base
AC adapter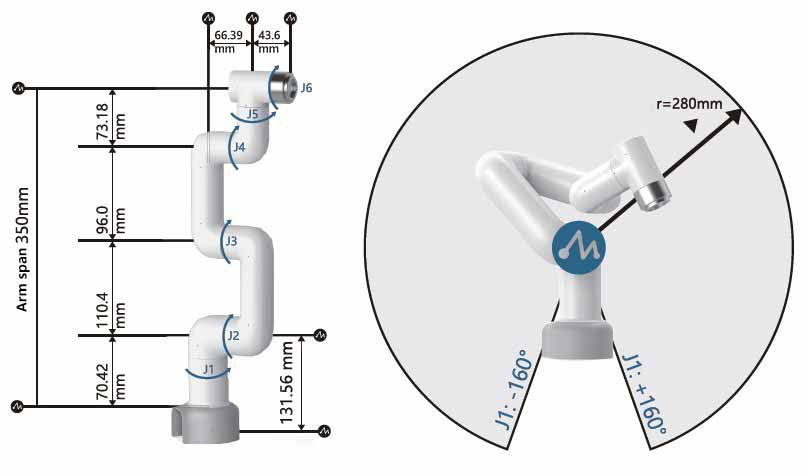 Features:
Unique Industrial Design & Extremely Compact

myCobot is an integrated modular design and only weighs 850g which is very easy to carry. Its overall body structure is compact with less spare parts and can be quickly disassembled and replaced to realize plug and play.

High configuration & Equipped with 2 Screens

myCobot contains 6 high-performance servo motors with fast response, small inertia, and smooth rotation. The body carries 2 display screens supporting the fasted library to show the expanded application scene more easily and clearly.

Lego Connector& Thousands of M5 Ecological Application

The base and end of myCobot are equipped with Lego Connector, which is suitable for the development of various miniature embedded equipment. Its base is controlled by M5 Stack Basic, and thousands of application cases can be used directly.

Blocky Programming & Supporting Industrial ROS

Using UIFlow visual programming software, programming myCobot is simple and easy for everyone. You can also use RoboFlow, software of industrial robots from Elephant Robotics, supporting multiple functional modules Arduino + ROS open-source system.

Track Recording & Learn by hand

Get rid of the traditional point saving mode, myCobot supports drag trial teaching to record the saved track and can save up to 60mins different Tracks making it easy and fun for new players to learn.
Specifications:
No. of axis: 6
Payload: 250 grams
Working range: 280mm
Position repeatability: ±0.5mm
Weight: approx. 850 grams
Power supply: 8V 5A
Communication: Type-C
M5STACK Basic

240MHz dual core, 600 DMIPS, 520KB SRAM, Wi-Fi, dual mode Bluetooth
16MB
2 inch, 320×240 TFT LCD
Speaker
3x custom button
110mAh @ 3.7V Lithium Ion battery

M5STACK Atom

240MHz dual core, 600 DMIPS, 520KB SRAM, Wi-Fi, dual mode Bluetooth
4MB
25x WS2812C LED
MPU6886 MEMS
Infrared transmission
1x custom button
Documents: