This Digital Weighing Scale Kit is designed to measure weight up to 5kg. It includes a load cell of 5kg, and an amplifier module that reads load cells to measure weight. By connecting the amplifier module to your microcontroller you will be able to read the changes in the resistance of the load cell.
The amplifier uses a two-wire interface (Clock and Data) for communication. It works with Arduino, Raspberry Pi, micro:bit and others microcontroller with GPIO pins.
A makecode Block package is developed to remove the complexity of using this weighing scale with your micro:bit.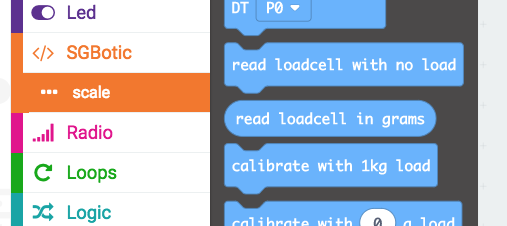 Use the link below to add this makecode package to your micro:bit project.
https://github.com/SGBotic/pxt-SGBotic-scale

Kit includes:
5kg load cell
Amplifier module
Mechanical parts
The kit is fully assembled.
Dimensions: 120(L) x 100(W) x 36(H)