IMPORTANT: This version (A2M8R4), with maximum laser power of 5mW, is a class 3a laser apparatus and does not require license to possess or use. The laser power of newer version (A3) has increased to 10-12mW which make it a controlled class 3b apparatus. Licenses are required to legally possess and/or use the class 3b apparatus.
The RPLIDAR A2M8R4 360° Laser Scanner is the next generation of 360 degree 2D lidars. The RPLIDAR A2M8R4 adopts low cost laser triangulation measurement system developed by SLAMTEC, and therefore has excellent performance in all kinds of indoor environments and outdoor environments without direct sunlight exposure.
It can take up to 8000 samples of laser ranging per second with high rotation speed. And equipped with SLAMTEC patented OPTMAG technology, it breakouts the life limitation of traditional LIDAR system so as to work stably for a long time.
The system can perform 2D 360-degree scan within a 8-meter range. The generated 2D point cloud data can be used in mapping, localization and object/environment modeling.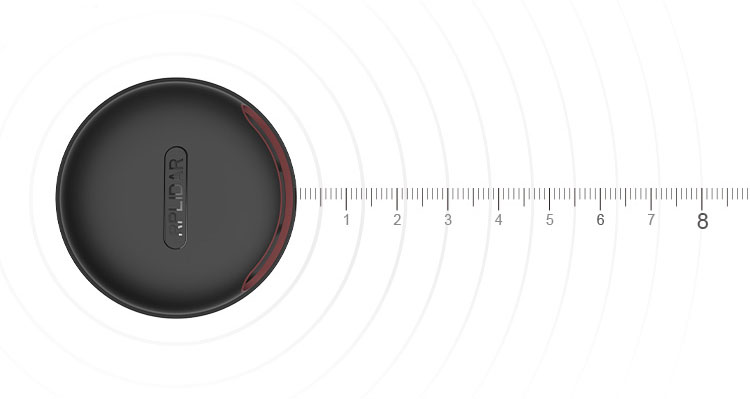 Before leaving the factory, every RPLIDAR A2M8R4 has passed strict testing to ensure the laser output power meets the standards of FDA Class I.
The typical scanning frequency of the RPLIDAR A2M8R4 360° Laser Scanner is 10hz (600rpm). Under this condition, the resolution will be 0.9°. And the actual scanning frequency can be freely adjusted within the 5-15hz range according to the requirements of users..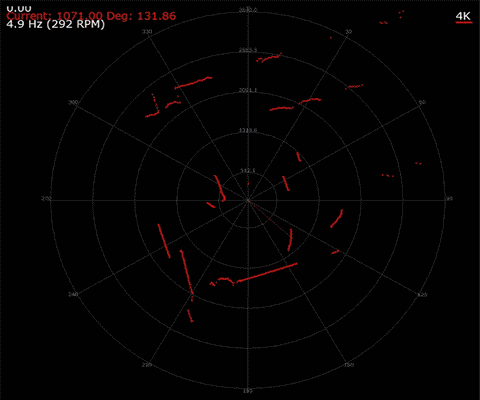 The RPLIDAR A2M8R4 consists of a range scanner core and mechanical powering parts which makes the core rotate at a high speed. When it functions normally, the scanner will rotate and scan clockwise. And users can get the range scan data via the communication interface of the RPLIDAR and control the start, stop and rotating speed of the rotatation motor via PWM.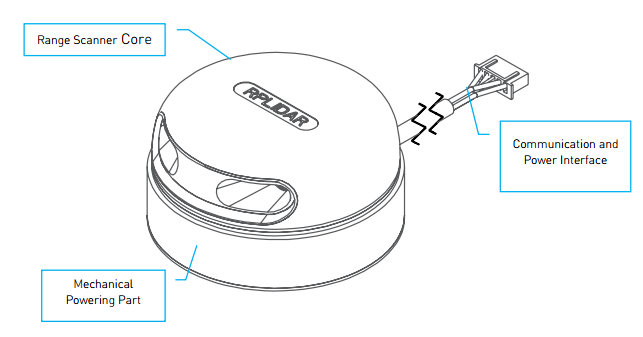 The RPLIDAR A2M8R4 uses separate 5V DC power for powering the range scanner core and the motor system. And the standard RPLIDAR A2M8R4 uses XH2.54-5P male socket. Detailed interface definition is shown in the following figure:


The RPLIDAR A2M8R4 comes with a rotation speed detection and adaptive system. The system will adjust the angular resolution automatically according to the actual rotating speed.
NOTE: The RPLIDAR A2M8R4 works with supply voltage of 5VDC, however, the logic level of TX/RX and MOTOCTL pin is 3.3V and is not 5V tolerant. A Logic Level Converter is recommended if connect directly to a 5V device (e.g Arduino Uno and Mega).

Features:
Measurement Range: 0.15 - 12 meters
Angular Range: 0-360 degree
Distance Resolution: <0.5 (0.15~1.5 meters) and <1% of the distance (All distance range)
Angular Resolution: 0.9 degree
Sample Duration: 0.125 millisecond
Sample Frequency 8000Hz
Scan Rate: 10Hz
Applications:
General robot navigation and localization
Environment scanning and 3D re-modeling
Service robot or industrial robot working for long hours
Home service /clean robot navigation and localization
General simultaneous localization and mapping (SLAM)
Smart toy's localization and obstacle avoidance
Documents: