This is the latest version of the popular HC-SR04 Low Cost Ultrasonic Sensor. Instead of the common GPIO interface, this version of HC-SR04 uses I2C to communicate with host controller.
HC-SR04 ultrasonic sensor provides a very low-cost and easy method of distance measurement. It measures distance using sonar, an ultrasonic (well above human hearing) pulse is transmitted from the unit and distance-to-target is determined by measuring the time required for the echo return. Unlike the other version of HC-SR04 that uses GPIO interface and require the host controller to measure the pulse width of the returned signal, this sensor process the data locally and return the measured value to host controller via I2C interface, resulting in better range accuracy and stability.
This HC-SR04 works with 3V or 5V supply. An onboard 2.54mm pitch pin header allows the sensor to be plugged into a solderless breadboard
Note:
This HC-SR04 has fixed I2C address (0x57), therefore only one unit is allow in I2C bus. For multiple units on single I2C bus, checkout our Ultimate SR04.
The screw / nut set for this sensor can be purchased separately.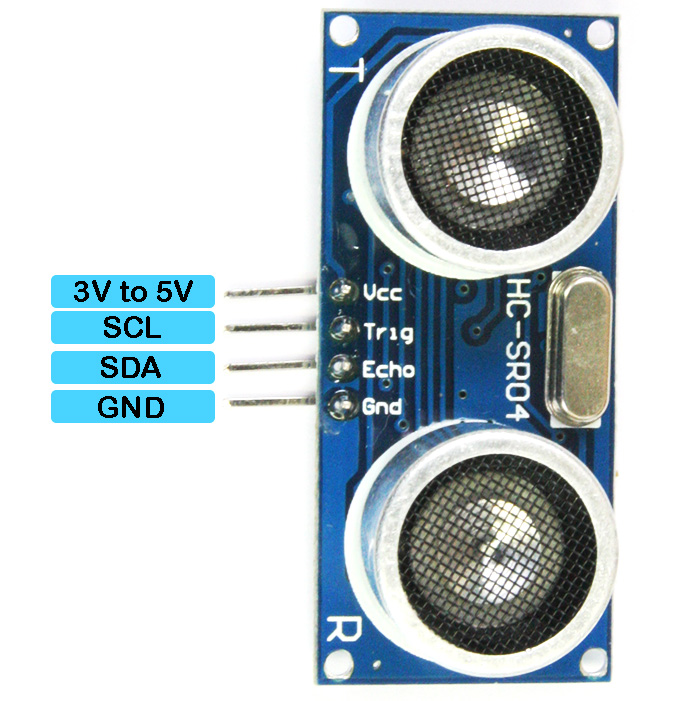 Features:
I2C interface (I2C Address: 0x57)
Wide operating voltage range: 3 – 5VDC
Provides precise, non-contact distance measurements within 2cm to 4m range
3 mA operating current
4-pin header, no soldering required
Dimensions:
45 x 20 x 15 mm
Weight 8.5g
Documents: